This morning I officially launched The Commode Code, a restroom etiquette podcast which I'm doing with Pieter Wycoff. Here's a little video trailer which I posted on Facebook to announce it.
You can add us in Apple Podcasts, Google Play, Overcast, Pocket Casts, Stitcher, TuneIn, Castro, and any other player through our RSS feed. You can also get our episode on YouTube, or even just listen to the full episode right here:
As I mentioned in my blog post about leaving my last jobby-job, I really enjoyed working at my high school radio station and I wanted to get back into broadcasting. But The Commode Code is an idea which we'd been kicking around for quite a bit longer than that… I just finally had the time to get around to producing it.
Production
My friend Burton asked on Twitter about my recording setup and for a blog on starting a podcast. I thought this would also be a good opportunity to have a "time capsule" for myself about my setup so I can look back on it at some point in the future and laugh about using such cheap microphones 😂.
Physical Set-Up
For The Commode Code, we record in person at my house. So the first most important thing was to make sure the physical space was set up well for recording: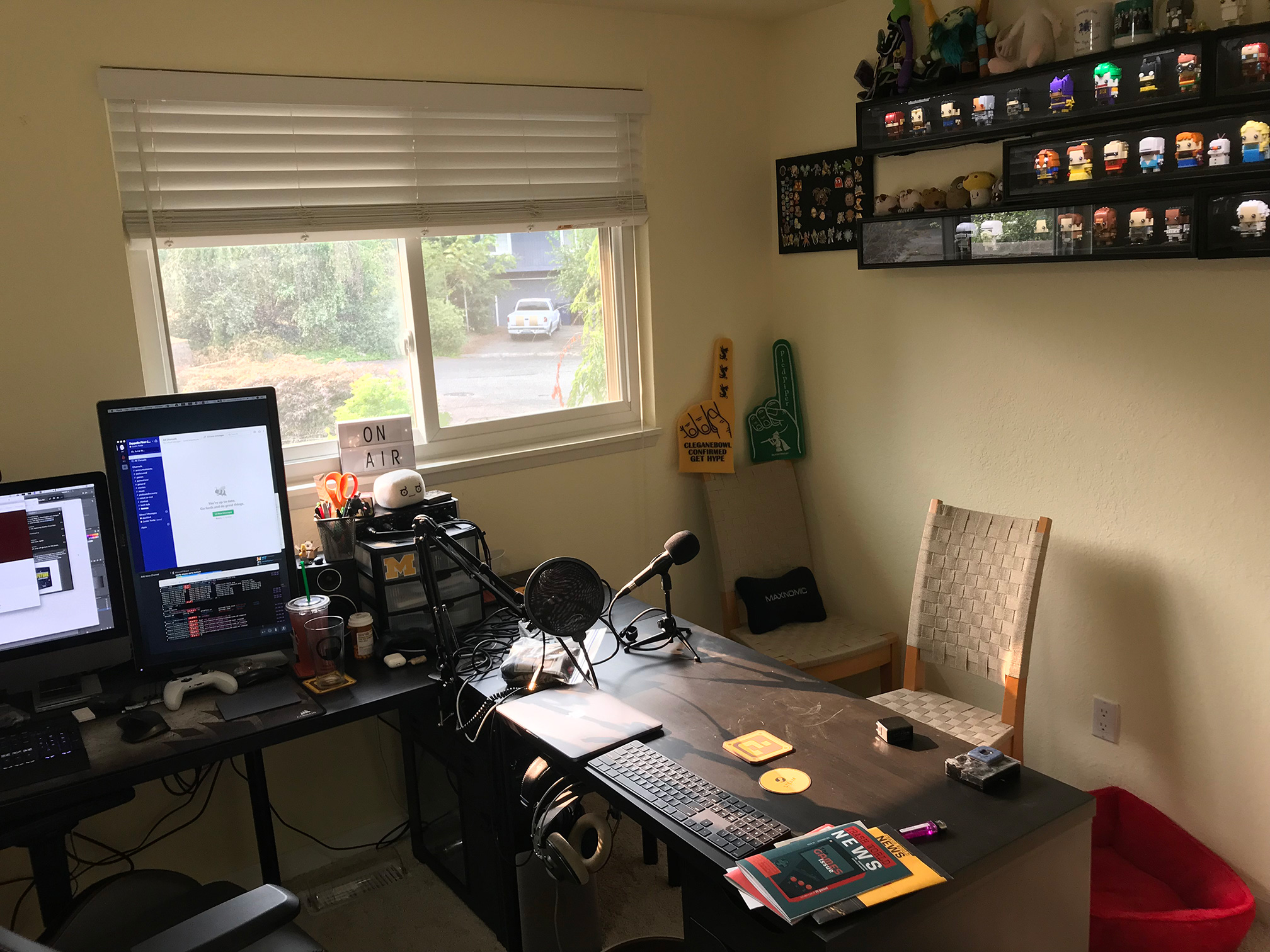 I've constructed a bit of a corner desk out of a couple sizes of IKEA LINNOMON tables. The shorter table segments the room into my "control station" and the guest area. During the recording, Pieter sits in the guest area, and I turn my chair to face him.
Computer Hardware
I'm using an iMac Pro for recording, editing, and all production stuff. This is frankly overkill, but I do use some Mac-specific software in my workflow. While recording, I use a MacBook Pro to review and update the show notes so I'm not actively working on my production PC.
Audio Equipment
We're both using the Pyle-Pro PDMIC58 microphone. This microphone is a cheap knock-off of the Shure SM58, and they were $13.98 each when I bought them. I found out about this microphone from Marco Arment's Podcasting Microphones Mega-Review where he ranked it fifth-best out of 23 microphones, and three of the four mics that beat it out were so costly that I instantly disqualified them for my initial setup costs.
I'm using this cheap Neewar boom arm. The build quality isn't great, but as long as I'm gentle with it, it should last a while. I'm using a Auphonix pop filter mounted on the arm. For the first episode, Pieter recorded on one of these Bearstar desktop stands with a Mudder foam windscreen. However, the desktop stands make good microphone technique harder, and one of the first upgrades I might do is to get another cheap boom arm.
To interface these XLR microphones to my computer, I'm using the TASCAM US-4x4 USB Audio Interface. The TASCAM US-2x2 was recommended by Marco in his article and also took top spot in Jason Snell's Low-cost USB audio interfaces review. I elected to get the 4x4 instead of the 2x2 since the likelihood of needing a third input is very high as we plan to bring on extra corespondents and some of them are local.
I use a Behringer MICROAMP HA400 to have independent headphone volume controls available for all of participants. I use the Sony MDR7506 headphones for recording, editing, and mastering. Pieter brings his own headphones, and I probably need to get some more closed-back headphones to have extras available for guests.
I'm using the AmazonBasics XLR cables to hook the mics to the interface and while the sound quality is good, the cables don't quite align and fully lock into the mics. I'm not sure if this problem is on the cable side or the microphone side, and they stay pretty snug regardless, so I'm not in a rush to replace the cables.
Software
I use Adobe Audition CC for both recording and editing. I use Audio Hijack to create a backup recording and record any system audio in case we'll need it. Audio Hijack will also be useful for routing audio and recording remote guests when we start having them on the show.
I record Pieter and myself onto individual tracks, but I couldn't do a lot of single-track edits and adjustments on the first episode because we bled into each other's mics quite a bit (I bled into his more than him into mine, not sure why right now). So for this first episode, I generally ended up making all the edits to both tracks simultaneously.
For audio processing, I first use iZotope RX 6's Voice De-noise plug-in on each track to minimize background and room noise. Then I use a dynamics processing filter and two compressors to even out the audio. The settings I use are a combination of the podcast voice present in Audition and the settings in Jim Metzendorf's The Professional's Guide to Audio Podcast Production. I set markers in the Audition project for the chapters, and then bounce the audio to a completed uncompressed wav file. I then use Forecast to add the episode metadata and compress the mp3.
For the video version of the podcast and the trailer, I used Adobe After Effects CC. It's a pretty simple set of animations since I'm not great at After Effects.
Hosting and Submission
There's a lot of great options in the world of podcast hosting, but I selected Fireside to host the show. While there's cheaper options, the main reason for choosing Fireside was that I wanted an all-in-one podcast and website host, and I personally like Fireside's website template quite a bit. I also like the fact that there's basically no limits to the plan so I don't need to worry about running into a megabyte-upload limit or anything like that.
I submitted the show to Apple Podcasts, Google Play, Stitcher, and TuneIn. Spotify requires the show's hosting company to submit and they broke submissions from some (all?) hosts for a while, including Fireside, but it sounds like that will be coming back soon. Apple took five business days to accept the show, while the others did in just a couple days. Since Apple Podcasts is the most popular player and most other players use Apple's directory, I waited until it was listed there and re-dated the first episode before releasing it.
Conclusion
And that's it! That's what I did to get this first episode out!
Please subscribe to the show and follow/like our social media channels!
I'm pretty new at all this, but if you want to know anything else about my process or if you want to provide feedback, you can hit me up at @bangfalse on Twitter.